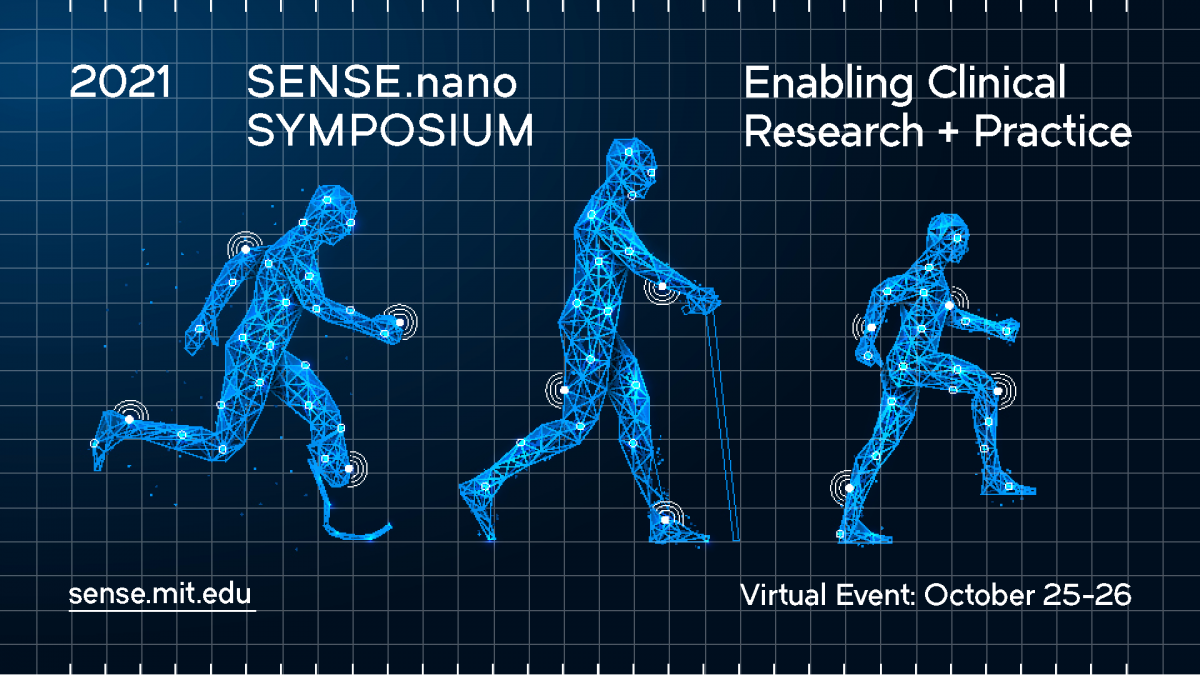 The 2021 SENSE.nano symposium focused on human subjects research, exploring how sensors and sensing systems can enable current medical studies and future clinical practice. SENSE.nano 2021 also celebrated the re-opening of the expanded Clinical Research Center (CRC) at MIT, now known as MIT's Center for Clinical and Translational Research.
Broken into two half-day webinars, SENSE.nano 2021 investigated human health through various technologies including motion capture, physiological monitoring, and sensing tools for the study of bodily fluids. Over a series of invited technical talks, panel discussions, presentations by MIT-launched startups, and views into MIT research today with current graduate students, this event provided needs context and solution perspectives in the domains of sensing for medical engineering and science, and for the care of humans in their environment.
The 2021 SENSE.nano Symposium was sponsored by MIT.nano, MIT's Center for Clinical and Translational Research, and the MIT Industrial Liaison Program (ILP).
Read the MIT News recap. | Watch the talk videos.
---
Monday, October 25, 2021
Welcome and Keynote
1:00 PM
Welcoming remarks
 
Brian Anthony | Associate Director, MIT.nano
Vladimir Bulović | Director, MIT.nano; Fariborz Maseeh (1990) Chair in Emerging Technology; Professor of Electrical Engineering, MacVicar Fellow
 
Elazer Edelman | Director, MIT Institute for Medical Engineering and Science
1:10 PM
Opening keynote
 
Dr. Cecilia Stuopis | Director, MIT Medical
---
Tuesday, October 26, 2021
Welcome
12:10 PM
Welcoming remarks
 
Brian Anthony | Associate Director, MIT.nano
Vladimir Bulović | Director, MIT.nano; Fariborz Maseeh (1990) Chair in Emerging Technology; Professor of Electrical Engineering, MacVicar Fellow
12:15 PM
Presenting the MIT Center for Clinical and Translational Research
 
Catherine Ricciardi | DNP, ANP-BC, MIT Institute for Medical Engineering and Science
Tatiana Urman | Clinical Research Nurse Coordinator, MIT Institute for Medical Engineering and Science
Xiang (Shawn) Zhang | Postdoctoral Associate